Activator
KA Leisure's Mobile Health and Physical Activity Unit
The ACTIVATOR stops in various locations in your community and can attend your community event or Health Gala Day… Come on board and get a free fitness test, blood pressure check, health advice, tasty recipes and a chat with our friendly team of staff…
Why not visit the ACTIVATOR on one of its stops?
Ardeer CC
---
Tesco Saltcoats
---
West Kilbride Community Centre
Largs Community Campus (evening)
Ayrshire College
(Health & Wellbeing Event)
---
Kilwinning Library
---
Ardrossan Library
29.03.2019
10:00 – 13:00
Eglinton Park
---
Bourtreehill Village
---
Kilwinning Sports Club
---
B&M
---
Largs Prom
Kelburn Country Park
04.04.19
10:00 – 14:30
---
Tesco High Road, Saltcoats
---
Employability Hub Ayrshire College
---
Kilwinning Main Street
Stevenston Library
05.04.19
10:00 – 14:30
---
Employability Hub Fullarton
---
Dreghorn Library
Workplace Visits
We can provide your company with tailor-made workplace visits designed to suit your needs. Our highly qualified team and mobile health unit you can offer your employees the following:
• Blood Pressure
• Grip Strength
• Lung Function
• BMI (body fat)
• Blood Sugars Health Advice
• Presentations
• Fitness Testing
• Cholesterol Check
We will also provide you with a Company Report outlining your company's overall health.
For more information, details and prices please contact the Active Lifestyles Team on 01294 605128.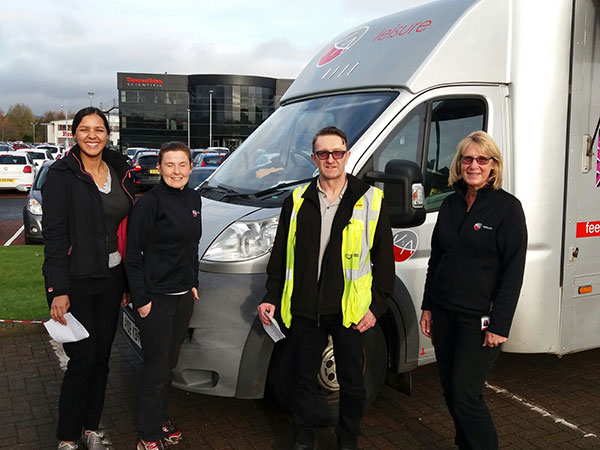 Boditrax
Why not hire our Portal boditrax composition unit to offer body composition checks at events or workplaces. A member of our team will deliver the composition check which take approx. 15min per person.
*Portable model varies
Hire our highly qualified staff to deliver boditrax readings at your event
For more information speak to the Active Lifestyles Team on 01294 605128.
Community Events
Do you have a community event which would benefit from a visit from our team? You can book the Activator to attend your event and deliver health checks, provide fun activities for kids and raise awareness of local sport and physical activities.
You could also hire our Tadpull mobile pre 5's unit for your event. This multi-activity unit is the perfect addition to your fun day.
For further details contact Active Lifestyle on 01294 605128