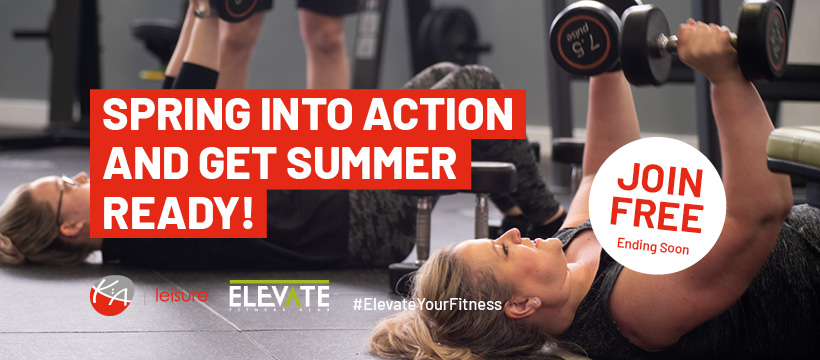 We have compiled a list of "10 reasons why you should join KA Leisure as a member"! Keep reading to find out what they are, and maybe they will help give you the push you need to start on your fitness journey.
#1. Separate your workout space and relaxing space.
Our facilities are dedicated spaces for exercise with like-minded people who want to get fit. Going to a gym/pool etc to work out instead of working out from home separates your living space from your workout space. During covid we all learned the importance of having a space dedicated to work, why should your workout space be any different?
#2. Feel better about yourself
Working out makes you feel like you have accomplished something. After consistently working out, your body will start to see improvements both physically and mentally which will make you feel good. Exercise releases endorphins which are the feel-good hormones. Why wouldn't you want to feel better about yourself? This is made easier by using the wide range of facilities across all our sites. Let us here at KA Leisure help you to help yourself feel good.
#3. Stress Relief
Similarly, to the previous reason, exercising relieves stress. After a hard day at work, school or a busy day with the kids, it is a great way to wind down. You can turn your mind off and concentrate on something else for a short time, all while being active. You can even schedule your own workouts around the variety of children's activities included in the Inspire Membership. Find out more here: https://kaleisure.com/sports/
#4. Less screen time
Instead of spending that extra hour watching tv or scrolling social media why not go to one of our facilities instead? Too much screen time isn't good for our eyes or general mental health, so try to get up and leave the devices at home. Especially if your job involves lots of computer time. Find the venue closest to you: https://kaleisure.com/locations/
#5. Wide range of fitness choices
KA Leisure has a wide range of classes and facilities to choose from. If going to a gym isn't for you why not try swimming in one of our pools, or joining a class such as Bums and Tums, Body Combat or Super Circuit. Unless you have a full gym at your home, going to a dedicated fitness space has so many benefits.
#6. Good hobby
If you are in need of a new hobby, exercise is a great choice. Not only can it be fun, but it is also extremely good for your health. As mentioned previously, getting away from a screen and being active can be a far more fulfilling hobby than gaming or tv all the time. KA Leisure has a variety of clubs and sports to try, for all ages. Including golf, swimming and basketball among others. Visit the https://kaleisure.com/community-sport-database/ to find a club that's right for you.
#7. Away from elements
Although getting outside for a walk is a great form of exercise and supply of fresh air, sometimes when it is cold and miserable the last thing we want is to be outside. It can squash our motivation and discourage us to want to be active. Even in the summer months, the hotter temperatures can make us feel sluggish. The KA Leisure facilities provide a sheltered indoor space where you can work out to your heart's content.
#8. Socialise with friends and new people
Attending a fitness class or even working out at a gym can be great a social experience. Not only will it improve your fitness, but you may also meet some new like-minded friends or at the very least it may provide a sense of comradery and company. Browse the selection of classes on offer: https://kaleisure.com/fitness/fitness-timetables/
#9. Improve confidence and fitness ability
KA Leisure has a range of facilities on offer under our health and wellbeing sector https://kaleisure.com/exercise-referral/ . "Active North Ayrshire (ANA) is our local physical activity on referral programme in North Ayrshire. You can be referred to the programme by your GP or health professional and we will support you to become more active with activities and physical activities that are fun and enjoyable." No matter your abilities there are opportunities at KA Leisure for you. Get in touch with one of the centres to learn more.
#10. Range of membership options
As well as the full membership that gains you unlimited access to the fitness suites, unlimited ice rink and fitness class entrance etc. KA Leisure has a swim only membership and if you fancy your hand at a few rounds of golf you can view our golf options at https://kaleisure.com/golf/prices/ . Whether it is for yourself or your children, you can view the choice of memberships here: https: https://kaleisure.com/fitness/memberships/
That was "10 reasons why you should join KA Leisure as a member". We hope we have inspired you to get fit and to consider KA Leisure facilities to help you on your fitness journey!