Activator Mobile Health Unit
Activator
The ACTIVATOR is our versatile, mobile, physical activity and health unit which provides a valuable service of health checks and lifestyle advice within the heart of local communities. This includes an early intervention service which carries out health checks that frequently identify potential health issues which often result in a person being referred to a medical professional. In some instances, a health condition is then diagnosed and medication is prescribed. This service can have a tangible impact as the first point of contact and demonstrates the importance of early intervention to prevent further health complications.
Workplace Visits
We can provide your company with tailor-made workplace visits designed to suit your needs. Our highly qualified team and mobile health unit you can offer your employees the following:
• Blood Pressure
• Grip Strength
• Lung Function
• BMI (body fat)
• Blood Sugars Health Advice
• Presentations
• Fitness Testing
• Cholesterol Check
We will also provide you with a Company Report outlining your company's overall health.
For more information, details and prices please contact the Active Lifestyles Team on 01294 270796 or to book the vehicle please fill out this form.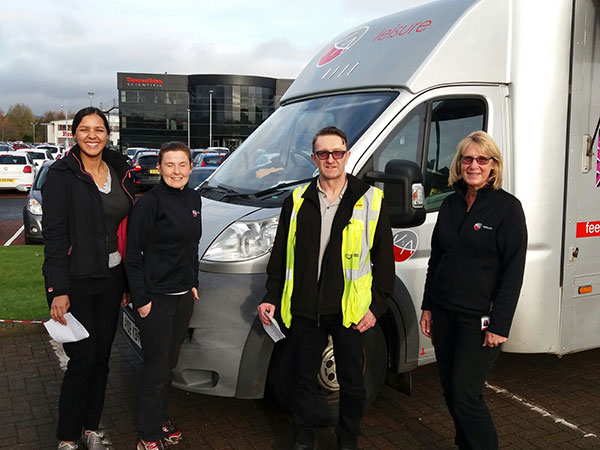 Boditrax
Why not hire our Portal Boditrax composition unit to offer body composition checks at events or workplaces. A member of our team will deliver the composition check which take approx. 15min per person.
*Portable model varies
Hire our highly qualified staff to deliver Boditrax readings at your event
For more information speak to the Active Lifestyles Team on 01294 270796.
Community Events
Do you have a community event that would benefit from a visit from our team? You can book the Activator to attend your event and deliver health checks, provide fun activities for kids and raise awareness of local sport and physical activities.
You could also hire our Tadpull our mobile pre 5's unit for your event. This multi-activity unit is the perfect addition to your fun day.
For further details contact Active Lifestyle on 01294 270796