Volunteer
Do you have free time? A passion for sport and physical activity? Then why not join us as a KA Leisure volunteer!
Volunteers are vital support for many of our programmes, events and initiatives. With this in mind our team of volunteers are valued members of our team and we look to offer the same level of development support they give us.
Volunteering may be the thing you need to raise your C.V. above the rest and help to propel you to that future career you've always wanted.
Why should you volunteer?
And thinking about how you want to benefit from volunteering is a good start to finding an opportunity that's right for you.
Gain confidence. Volunteering can help you gain confidence by giving you the chance to try something new and build a real sense of achievement.
Make a difference. Volunteering can have a real and valuable positive affect on people, communities and society in general.
Meet people.Volunteering can help you meet different kinds of people and make new friends.
Be part of a community. Volunteering can help you feel part of something outside your friends and family.
Learn new skills. Volunteering can help you learn new skills, gain experience and sometimes even qualifications.
Take on a challenge. Through volunteering you can challenge yourself to try something different, achieve personal goals, practice using your skills and discover hidden talents.
Have fun! Most volunteers have a great time, regardless of why they do it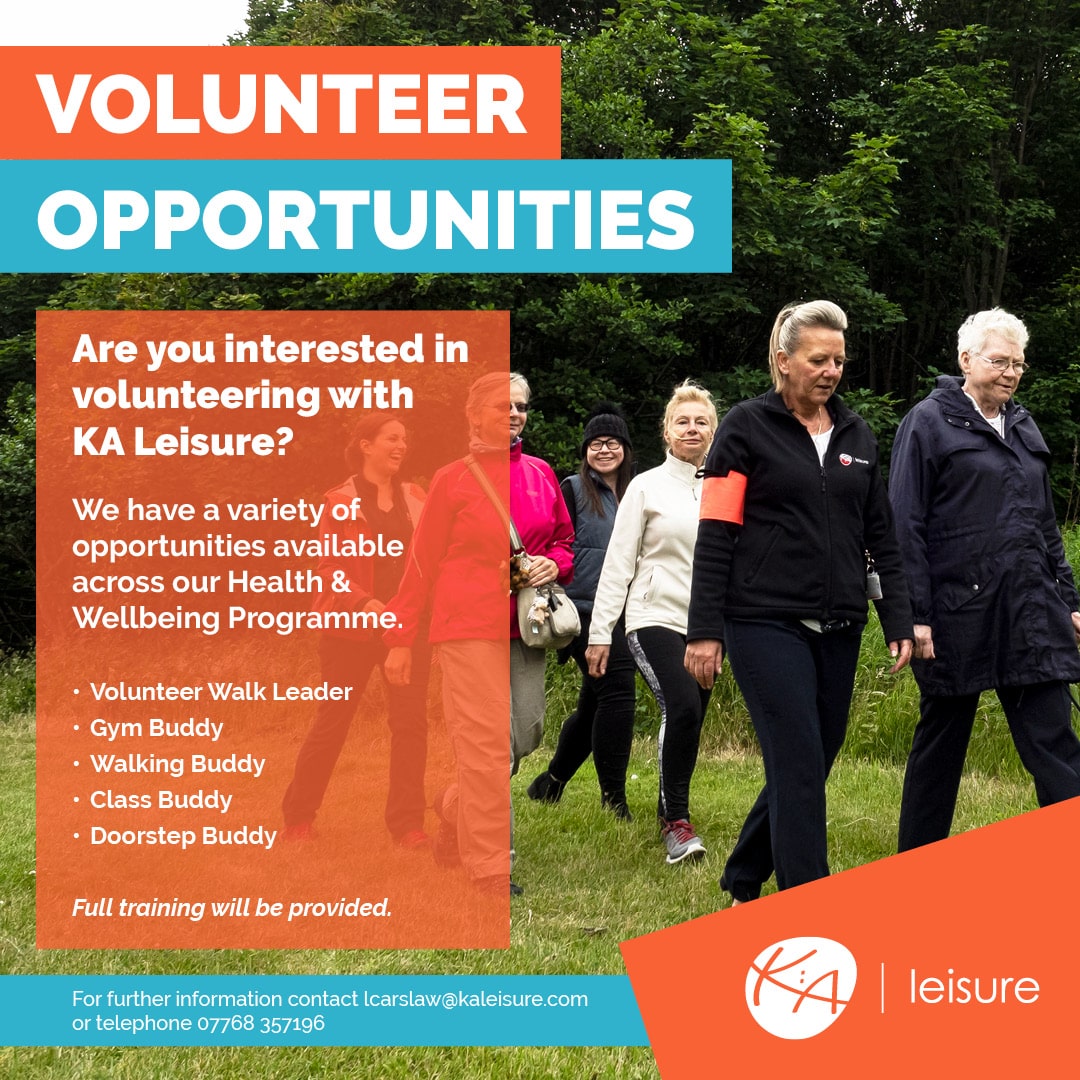 How can I get involved?
There are various areas for you to get involved and start volunteering.  From Active Lifestyles to Community Sport we can place you in an area and programme which suits you.  For more information please contact us with your preferred area of work to info@kaleisure.com.
For more information on volunteering visit www.volunteerscotland.net
Move More – Make someone feel supported
Volunteer to support people affected by cancer. Various volunteering opportunities are available. No experience is necessary, full support and training is given
We want to make sure that everyone living with and beyond a cancer diagnosis has access to appropriate physical activity opportunities and we need your help to achieve this. Macmillan Cancer Support is working with KA Leisure to support people affected by cancer to take the first steps to becoming more active, more often.
We are looking for volunteers to lead and support our various physical activity programmes for people affected by cancer.
We have various volunteering opportunities available including –
Circuits Support Volunteer
Volunteer Walk Leader
Green Health Volunteer
If you are interested in volunteering or would just like a bit more information, please contact a member of the Move More North Ayrshire team by email at movemore@kaleisure.com