Gardening Opportunities
By taking part in outdoor gardening and conservation projects you can:
Develop new skills
enjoy a weekly routine with goal orientated activities
meet and socialise with others
improve your general health and wellbeing
gain self-confidence and self esteem
learn about plants, natural history and conservation
improve your local community
Produce nutritious food
Help preserve green spaces
Eglinton Community Gardens
The Ayrshire Community Trust have created a flagship Demonstration Community Food Garden in the grounds of Eglinton Country Park which complements other projects and the on-going Castle developments.
The Garden complements and adds additional opportunities for other voluntary groups such as the Eglinton Growers, Breaking Ground, Enable and the Castle Developments and provides a range of activities for community use.
It provides all members of the community with learning opportunities related to gardening, growing food and cooking and provides the community and volunteers with the opportunity to learn new skills, tools and coping mechanisms and promote positive changes in health, diet and lifestyle and fitness.
The group meets Tuesdays, Thursdays and Fridays from 10am – 2pm.  If you're interested in getting involved with this exciting project or would like some more information please contact David Meechan by emailing d.meechan@tcv.org.uk  or calling 07773 200525.
Further information can be found at: www.theayrshirecommunitytrust.co.uk/community-garden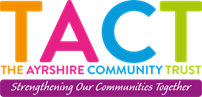 Breaking Ground Garden Project 
Breaking Ground is a social and therapeutic horticultural service for people living within North Ayrshire.  Based within Eglinton Country Park, it offers support, training and recovery for individuals who would like to improve their mental health.   As a green prescription therapy, individuals are referred to the project from health service organisations. By taking part in outdoor gardening and conservation  projects, you can:
Together the group works towards enhancing the park grounds to:
encourage wildlife
provide enjoyment
and provide a resource for the public, schools and other organisations
Participants take part in a nine month calendar of gardening activities. They will experience growing throughout the changing seasons and learn about plant care, propagation and garden maintenance. If you, or someone you know, is struggling with temporary mental ill health and could benefit from the therapeutic benefits of horticulture.
The group meet in the grounds of Eglinton Country Park on Tuesday mornings.  If you would like support to be part of this exiting project please contact:
Linda Tedford
Countryside Ranger and Horticultural Therapy Practitioner
Tel: 01294 551776
Mob: 07966 527094
Email: lindatedford@north-ayrshire.gov.uk