Action-packed programme for Summer 2019
SATURDAY 29th JUNE – FRIDAY 16th AUGUST
Fill your child's summer with opportunities to have fun, meet new friends and learn new skills. From Multi-Sport Camps to Pool Activities and Dance to Golf we have something for everyone. We're delighted to introduce a new Pre-school section which gives your little ones the chance to try new activities or develop confidence on their bike.
Plus back for 2019 is the KA Leisure Summer Roadshows. In partnership with various clubs and organisations the three Roadshows bring fun to your doorstep. Bringing a variety of sports games, inflatables and competitions there really is something for everyone.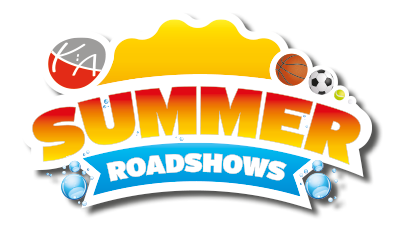 Portal – Friday 5th July
Garnock  Community Campus – Friday 19th July
Auchenharvie – Friday 2nd August
View Full Summer Activities Programme
FREE SUMMER SWIMMING
For all children and young people 0 -18 years living in North Ayrshire in the summer holidays at KA Leisure swimming pools
MONDAY 1st JULY – FRIDAY 16th AUGUST
Available Monday – Friday, 11:00 – 14:00 at • Auchenharvie • Garnock CC* • Portal • Vikingar
Dates, times and venue restrictions apply.
Download to view full terms and conditions
KA Sports Academy
Do you love sport and trying something new?
Our Multi Sport Camps combine a variety of sports and activities to create a fantastic week of fun. We have something different each morning and afternoon with new sports everyday. If playing just one sport or activity for a week isn't your thing then our camps are perfect for you. Take part in a full week of sports and fun or just book in the sessions which catch your eye.
Monday
Morning Session
Basketball
~
Lunch and Activities
~
Afternoon Session
Athletics
Tuesday
Morning Session
Football
~
Lunch and Activities
~
Afternoon Session
Badminton
Wednesday
Morning Session
Elevate Junior Fitness Fun
~
Lunch and Activities
~
Afternoon Session
Table Tennis
Thursday
Morning Session
Netball
~
Lunch and Activities
~
Afternoon Session
Sports Day Fun Session
FULL CAMP Monday – Thursday 10.00 – 15.00 – £45
PER SESSION 10.00 – 12.00 or 13.00 – 15.00 – £12
Portal
Monday 8th – Thursday 11th July
Garnock Community Campus
Monday 22nd – Thursday 25th July
KA Campus St. Matthew's
Monday 5th – Thursday 8th August
To book please contact your local venue