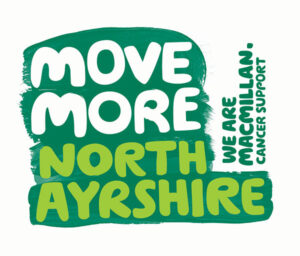 Move More
If you are living with cancer in North Ayrshire, Macmillan, NHS Ayrshire and Arran and KA Leisure offer a programme to help you get and stay active. Our activities are suitable for everyone, regardless of where you are in your cancer journey. We'll ask you a few questions, listen to what you have to say and then discuss ways of making physical activity a part of your life. And it doesn't matter if you've never been a particularly active person. We run classes for all abilities and even activities such as gardening or walking could be part of your programme.
Taking part in physical activity during and after cancer treatment can play a huge part in enabling you to take back control. It can help you prevent and manage some of the effects of treatment, such as fatigue, depression and risks to your heart health. And lots of people tell us that it helps them to feel more like their old self. What's more, Move More North Ayrshire classes are open to everyone, whether you're going through treatment or have long finished. You can even bring along a friend or relative to some activities. And they're a great place to meet others with similar experiences and to share your support, as well as to help one another stay positive and keep active.
To start getting more active today, call our Move More team for a chat on 01294 270796 or email movemore@kaleisure.com
These classes are led by specially trained cancer rehabilitation and exercise instructors. They use a variety of simple cardiovascular and strength exercises which are adaptable to provide an individualised physical activity programme. The instructors are always on hand to offer you guidance and support. Whether you have never been active before, or are looking to get back into the swing of things – our circuit classes are an ideal social way of doing this.
From rain to shine, our dedicated Walk Leader volunteers will take you through a variety of our health walks, set up specifically to support those affected by cancer to become more physically active by walking. Walks are short and sociable and provide a supportive environment for anyone affected by cancer. This includes people living with cancer, their friends, family and carers.
Gentle Movement Classes are volunteer led and combine breathing techniques with body movements to help you relax and reduce stress. The T'ai Chi style movements are great for improving flexibility, balance, coordination and strength.
If you have a long standing medical condition and would like to become more active join our classes.
To register to attend please contact Move More North Ayrshire on 01294 270796 or email movemore@kaleisure.com