Garnock Community Campus
Beith Road
Glengarnock
KA14 3BJ
Tel: 01505 682685 (Option 2)
For online booking Click Here.
General Information
---
The state of the art campus includes a high quality six-lane swimming pool leisure facility with teaching pool, 350 seat theatre, meeting/conference rooms, community café and a variety of sports halls.  There is also a synthetic pitch suitable for rugby and football along with a new 11 a side grass pitch.  The fitness suite boasts a variety of top of the range fitness equipment and our studio space offers a packed and varied class timetable.
We will be phasing the re-opening of leisure facilities in line with Scottish Government guidance from Monday 26th April. Find out more here
For online booking Click Here.

---
Swimming Pool and Synthetic Pitch
Monday – Friday
Swimming Pool (sessions as per timetable) 18:00 – 21:00
Synthetic Pitch 18:00 – 22:00
Saturday
Swimming Pool (sessions as per timetable) 08:15 – 15:00
Synthetic Pitch 09:00 – 16:00
Sunday
Swimming Pool (sessions as per timetable) 09:00 – 15:00
Synthetic Pitch 09:00 – 16:00

Six lane 25m Pool and Teaching Pool

Sports Halls (Closed)

Fitness Suite (Temporarily relocated to the Walker Hall)

Dance Studio (Closed)

Gymnasium (Closed)

11 a side 3g AstroTurf

11a side grass pitch

Theatre (Closed)

Meeting Rooms

Café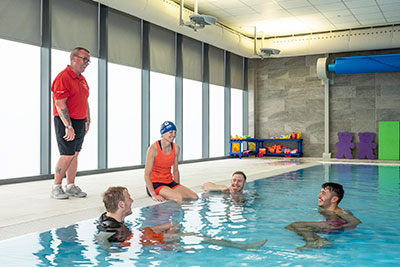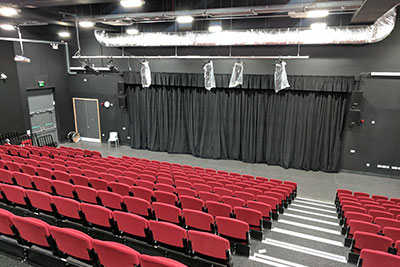 Pool Timetable
Day
Activity
Time
Monday
Public Pre book
6pm - 6.40pm
Public Pre book
7pm - 7.40pm
Public Pre book
8pm - 8.40pm
Tuesday
Public Pre book
6pm - 6.40pm
Public Pre book
7pm - 7.40pm
Public Pre book
8pm - 8.40pm
Wednesday
Public Pre book
6pm - 6.40pm
NAASC
7.30pm - 9.00pm
Thursday
Public Pre book
6pm - 6.40pm
Public Pre book
7pm - 7.40pm
Public Pre book
8pm - 8.40pm
Friday
Public Pre book
6pm - 7.40pm
Saturday
NAASC
8.15am - 9.45am
Public Pre book
10am - 10.40am
Public Pre book
11am - 11.40am
Public Pre book family swim
12pm - 12.40pm
Public Pre book family swim
1pm - 1.40pm
Public Pre book family swim
2pm - 2.40pm
Sunday
Public Pre book
9am - 9.40am
Public Pre book
10am - 10.40am
Public Pre book family swim
11am - 11.40am
Public Pre book family swim
12pm - 12.40pm
Public Pre book family swim
1pm - 1.40pm
Public Pre book family swim
2pm - 2.40pm