KA Leisure has scored double golds at the annual RoSPA Occupational Health and Safety Awards.
The organisation, which runs all leisure-based facilities on behalf of North Ayrshire Council, won two prestigious awards – in recognition of its working practices and achievements in helping its staff get home safely at the end of the working day – in the scheme run by the Royal Society for the Prevention of Accidents.
They were presented with the awards during a ceremony in Glasgow earlier this month.
The RoSPA Awards scheme, which receives entries from organisations around the world, recognises achievement in health and safety management systems, including practices such as leadership and workforce involvement.
Alex Murray, Health and Safety Co-ordinator at KA Leisure, said: "We are very proud of our ever improving health and safety culture at KA Leisure, and are delighted to have received this level of recognition which is testament to the hard work of our employees across the business in ensuring that each of our venues represent a safe and healthy environment for our visitors and our colleagues."
Julia Small, RoSPA's head of qualifications, awards and events, said: "The RoSPA Awards have become the key fixture in the health and safety calendar with new sponsors and new awards this year including the Leisure Safety Awards, the Safe@Work Safe@Home Award and the Inspiration Awards. Highly-respected, with almost 2,000 entrants every year, RoSPA award winners benefit from the wide-ranging rewards of improved sector reputation."
The majority of awards are non-competitive and mark achievement at merit, bronze, silver and gold levels. Gold medals, president's awards, orders of distinction and the Patron's Award are presented to organisations sustaining the high standards of the gold level over consecutive years.
Competitive awards go to the best entries in 24 industry sectors including construction, healthcare, transport and logistics, engineering, manufacturing and education.
There are specialist awards for health at work, environmental management and fleet safety, and excellence trophies for the best international, new entry, workforce involvement and organisation operating or based in Scotland. RoSPA's top accolade is the Sir George Earle Trophy.
Headline sponsor of the RoSPA Awards 2019 is NEBOSH – the National Examination Board in Occupational Safety and Health – for the 14th consecutive year.
For more information about the RoSPA Awards visit www.rospa.com/awards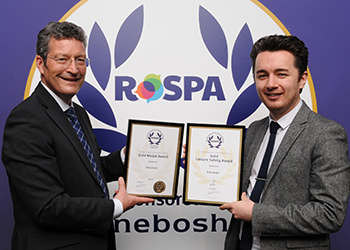 Alex Murray (right) receives KA Leisure's Gold Awards from RoSPA's Errol Taylor.