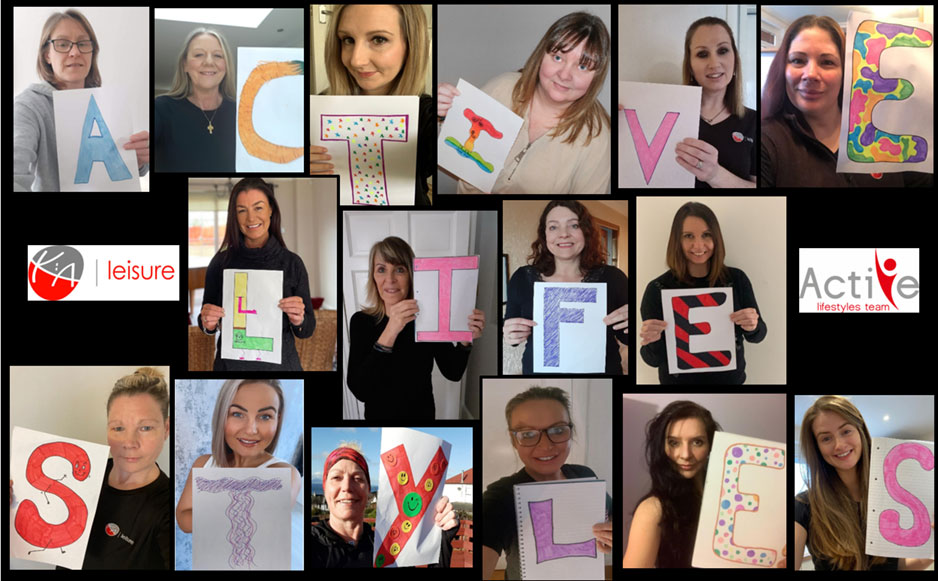 Meet the team! Our Active Lifestyles Team
Supporting your Physical and Mental Wellbeing
We work within local communities to achieve the ambition of 'North Ayrshire, More Active, More Often'. Funded by a range of partners our Health and Wellbeing Service, including 'Active North Ayrshire', our Physical Activity on Referral Programme, accommodates a range of specific conditions, such as stroke, heart disease, osteoporosis and falls prevention. We also provide supported physical activity to help people improve mental health and wellbeing through our Mind and Be Active referral programme, and support those living with and beyond a cancer diagnosis, through our Move More North Ayrshire cancer rehabilitation programme.
Our highly qualified team has a range of condition-specific qualifications to support our participants with long term health conditions to stay active, maintain their health and wellbeing and safely return to exercise. Being physically active is important to keep us both physically and mentally well and, with COVID-19 and the restrictions which we are currently experiencing impacting all of our lives, it is now more important than ever. So, if you want to become more active and improve your mental health and wellbeing, then we are here for you.
We have a fun online programme (while we can't meet with you in person), with activities which feature both specialised and more general exercise classes, and our participants are also being supported through regular telephone calls, online social chat sessions and closed Facebook groups. When you need advice or guidance, we're always on hand to help.
Our innovative walking programme allows our team members to offer one to one Buddy Walks for anyone who is isolated, feels that their mental health has been impacted or requires support to venture outdoors to keep active. We'll let you know when group walks will be available again when restrictions allow. Social distancing guidelines are adhered to at all times throughout your Buddy Walk, so you can be assured you will be safe.
As part of our programme we can now offer Doorstep Visits to our more vulnerable participants. During these visits, the team completes a quick assessment, and can prescribe a Home Activity Programme to help keep them active and mobile; team members can also offer a short, supported walk from the participant's home, or aid them to take part in exercises within their garden. 
You can self-refer to our programmes, or be referred by your GP or health professional, and we will then begin the support which can help you to become more active using activities and exercises that are both beneficial and enjoyable.
For anyone who feels that they are experiencing poor mental health, our Mind and Be Active programme is specifically tailored to your needs and experienced, qualified staff provide the necessary support by using physical activity as an intervention. 
In the coming weeks, we will provide support with condition-specific assistance, how to improve your mental health and generally become more active – so watch this space and stay well! 
If you would like to become more active, are living with a health condition and unsure where to start, further information on all of our programmes is available by contacting the team on 07483 156 181 or by emailing activelifestyles@kaleisure.com