Vikingar!
Greenock Road
Largs
KA30 8QL
Tel: 01475 689777
General Information
---
The award winning Vikingar! is situated adjacent to the promenade in the beautiful coastal town of Largs, and boasts views over the Firth of Clyde, the Isles of Cumbrae and beyond. In addition to the historical and action-packed Viking Experience, there is the Barrfields Pavilion Theatre, a 4 lane 25m pool and a teaching pool for beginners or younger swimmers plus a host of other leisure facilities are on offer including the air-conditioned KA Fitness Studio, making Vikingar! the ideal day out for all the family.

4  lane 25m Pool and Teaching Pool

Viking Visitor Attraction

Fitness Suite

Evolve Cycling Studio

Barrfields Theatre
Facility Opening Times
Monday to Friday
09:00am – 21:00 hrs
Saturday & Sunday
10:00am – 16:30 hrs
Fitness Suite Opening Times
Monday to Friday
07:00am – 21:00 hrs
Saturday
09:30am – 16:30 hr
Saturday
10:00am – 16:30 hrs
Viking Experience Opening Times
April – June  10:30 – 14:30 (Mon – Sun)
July – August 10:30 – 15:30 (Mon – Fri) 11:30 – 15:30 (Sat & Sun)
September – October 10:30 – 14:30 (Daily)
December & January Closed
February & November 11:30 – 14:30 (Sat &Sun)
March 11:30 – 13:30 (Mon – Sun)
Public Swimming will end at 15.00 if a pool party is booked, please check with centre in advance on 01475 689777
Viking Experience Opening Times
April – June  10:30 – 14:30 (Mon – Sun)
July – August 10:30 – 15:30 (Mon – Fri) 11:30 – 15:30 (Sat & Sun)
September – October 10:30 – 14:30 (Daily)
December & January Closed
February & November 11:30 – 14:30 (Sat &Sun)
March 11:30 – 13:30 (Mon – Sun)
If visiting on a week day please call 01475 689777 to confirm opening hours. Pre booked school tours can affect public opening times.
Journey Back in Time
When your "Viking" invites you into their Longhouse they will transport you back in time. You will be invited to sit on the simple wooden benches, covered in animal skins and learn about how they cooked over an open fire, heated water in a wooden bucket, preserved their meat in the rafters and made their own bread, not only to eat but also to trade!Once in Valhalla you will be greeted by the one eyed Odin, Lord of all the Viking Gods, who will then introduce you to the other four main Viking Gods, you will learn that the Vikings believed their Gods influenced their daily lives. For instance they believed that lightening was caused by the hooves of the goats that pulled Thor, the thunder God's chariot over the sky! And that Njord, the God of the seas and ships, would save them from being eaten by monsters should they fall into the sea! You will also learn about Frey, the God of fruitfulness and his sister Freya and her warrior maidens, the Valkyries.
The third stage of your tour is our cinema presentation. This is shown on 5 screens and is an action packed tale of over 500 years of Viking history. Viking history is retold from their earliest raids on the Outer Isles of Scotland right up until the Battle of Largs. You will see brave battles, the plunder of churches and the final defeat if the Vikings in 1263.
The last stage of your tour is our Viking Hall of Knowledge where you will find information panels, 4 interactive CD-ROM with over 15,000 pieces of information, scale models of our Viking Longship, a detailed map showing the Viking World and various wooden puzzles and games. Through the interactive question and answer boxes you will learn the who, what, when, why and how of Viking life. You might even learn a few new facts as well, such as Vikings used horns to drink out of and never wore them on their heads!
School Information
Largs & District including the Isle of Cumbrae
Largs is a most attractive seaside resort on the West Coast of Scotland; it boasts magnificent views over the Isle of Cumbrae and the Firth of Clyde beyond. When you are here you must pay a visit to the Pencil Monument, located beside the Marina, erected to commemorate the defeat of the Vikings at the Battle of Largs in 1263. There is plenty of parking space and a large grassed area where the children can "blow off steam" before they return home. Then there is Kelburn Country Park, Inverclyde Sports Centre and Clyde Muirshiel Regional Park all within easy reach and having plenty to offer. Then there is the alternative view of Largs from the Isle of Cumbrae. Why not take the ferry over there and see the Island for yourself?
Educational Costs
Hour Long Educational Viking Experience Tour £2.80 per child 1 Adult Free : 10 Pupils Extra Adults £4.00 2 Hour Long Educational Tour Second hour discount given to schools/groups, who wish to take the two hour educational tour. Groups of – 10 – 20 £5.00 per child 21 – 35 £4.50 per child 36 – 59 £4.30 per child 60 + £4.10 per child Viking Puzzle Trail £0.10 per copy
BOOKING PROCEDURE
As we are an extremely busy place especially during term time, ALL SCHOOLS MUST pre-book. Please call the centre to make a provisional reservation and a booking form will be sent out containing full details. OPENING HOURS The Viking Experience is open to the public at weekends only in February and November, from March to October it is open daily. CLOSED DECEMBER & JANUARY For bookings Tel: 01475 689777 or Email: info@kaleisure.com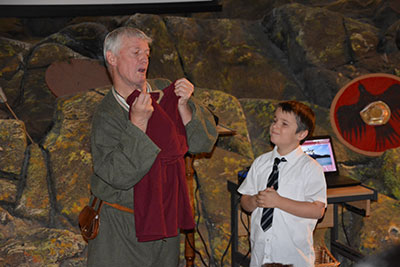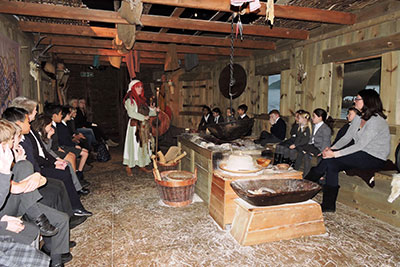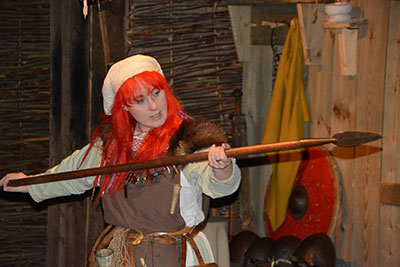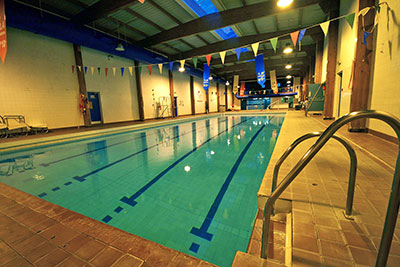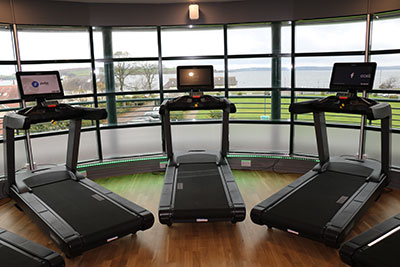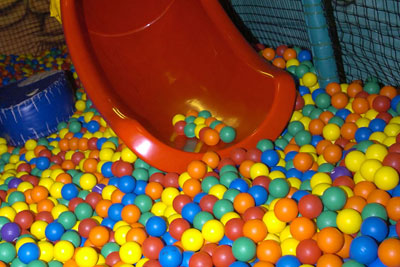 Please note that during swimming lessons (Mon/Tues/Wed 16:00-17:30) and ATS sessions (Mon 17:30-19:00 & Wed 17:30-19:30) the pool is closed to the public.
Learn to Swim Programme
Various Levels of Lessons

Monday – Wednesday  16:00 – 17:30
Sunday  10:00 – 12:00
For further information and availability contact the centre on 01475 689777.