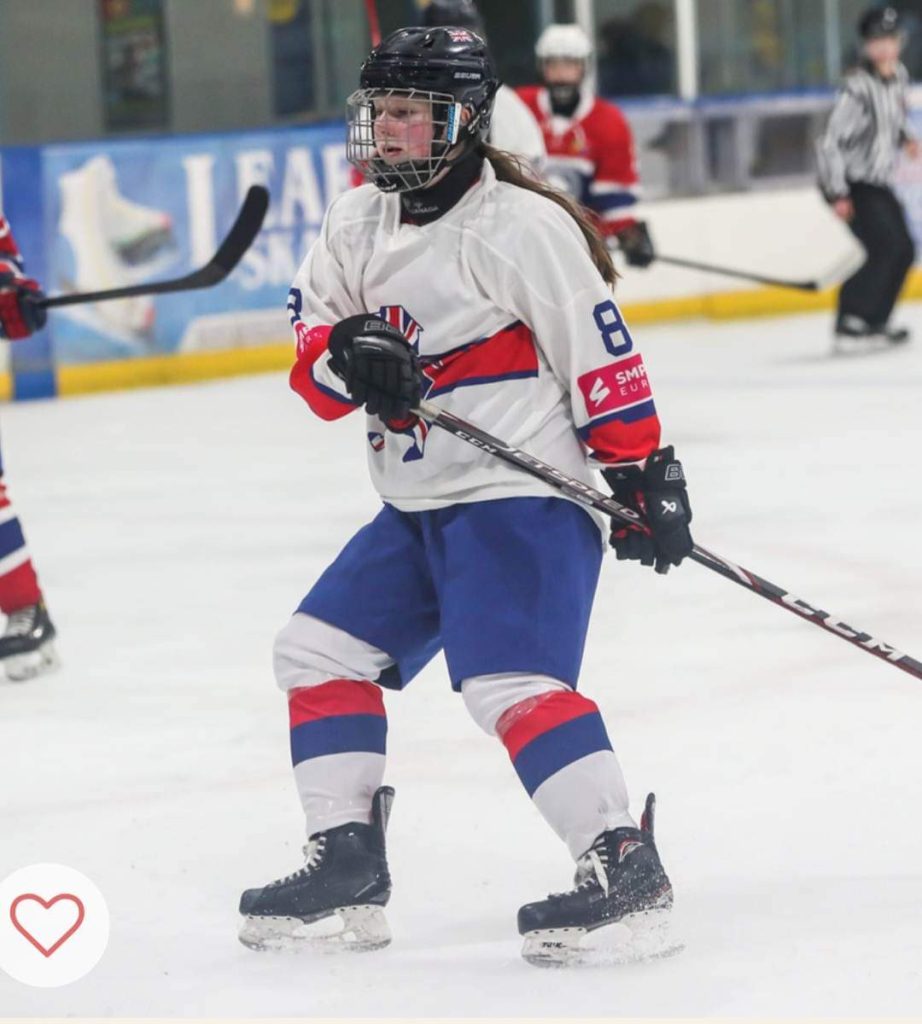 North Ayrshire Ice Hockey Club are delighted and extremely proud to have one of our own turnout for the Great Britain u16 Women's Ice Hockey Team recently at Planet Ice Rink in Widnes, England.
Emma Lamberton (15) has been with North Ayrshire since she started playing hockey.
After attending her first ever game at only 3 years old she knew this was what she wanted to do as she immediately had the bug.
Coming through all the age levels at North Ayrshire of Learn to Play, Ducks, Sabres, Penguins, Stars, Predators and now after the club rebranding U16s and u19s North Ayrshire Wild.
She regularly contributes to our Learn to play sessions on a Saturday morning and has inspired and encouraged more girls into our club, which is great to see, showing that this sport is for everybody.
Emma has always been a regular attendee at Scotland Girls Development too whilst training, playing games and tournaments over the years and always gives 110% when on that ice making her every coach's ideal player.
The Great Britain team were facing off against their counterparts from Norway over the 3 days.
Norway are a bigger and more experienced side who have played together before whilst this was the first time the Great Britain girls had played in a game together. The score ended 8-1 to Norway but with positive things that coach Nicci Wardell could work with.
In the second game, the coach changed things up a little but Norway still came out 4-0 winners however the GB girls were improving all the time.
In the third game, the scoreline of 4-0 to Norway remained the same but the GB girls continued to improve and we are sure this team will be one to be reckoned with as they grow together.
Great Britain Head Coach Nicci Wardell had this to say about her side after the 2nd game as the girls continue to show improvements in their three-match Under-16 Women's series with Norway.
Wardell said: "We continue to show big improvements. We were with them for good periods today.
"A 2-0 or 3-0 game would have been a fairer reflection but we are still happy.
"The girls continued to impress us all today, resulting in their efforts being rewarded with a tighter game"
"Their commitment to continually improving themselves as a team has been really pleasing to see.
"They have bought into everything we have asked of them in terms of structure and systems."
On behalf of North Ayrshire Wild Ice Hockey Club, we wish Emma and all the girls the best of luck in future games.  Well done ALL of you. 🇬🇧
Craig Crozier
NAIHC Media Officer
KA Leisure wants to extend our own congratulations to Emma and the team!