Recent times have brought a different kind of stress to us all as we adapt to social distancing measures and the constant coverage and focus on COVID-19 and the impact it is having across the world.
The government is telling us to stay at home and only go outside for food, health reasons or essential work, to stay two meters (six feet) away from other people and wash our hands as soon as we get home.
This will mean that more of us will be spending a lot of time at home and many of our regular social activities will no longer be available to us.
It will mean a different rhythm of life, but is also a chance to be in touch with others in different ways than usual. Be in touch with other people regularly on social media, e-mail or on the phone, as they are still good ways of being close to the people who matter to you.
Create a new daily routine that prioritises looking after yourself. You could try reading more or watching movies, having an exercise routine, trying new relaxation techniques, or finding new knowledge on the internet. Try and rest and view this as a new if unusual experience that might have its benefits.
Stressful situations
Everyone reacts to situations differently. The constant coverage and focus on COVID-19 in our media and social environments can bring out some stressful feelings in ourselves and others.
Some reactions to this situation include:
Fear and worry about your own health status and that of your loved ones who may have been exposed to COVID-19
Changes in sleep or eating patterns
Difficulty sleeping or concentrating
Worsening of chronic health problems
Increased use of alcohol, tobacco, or other drugs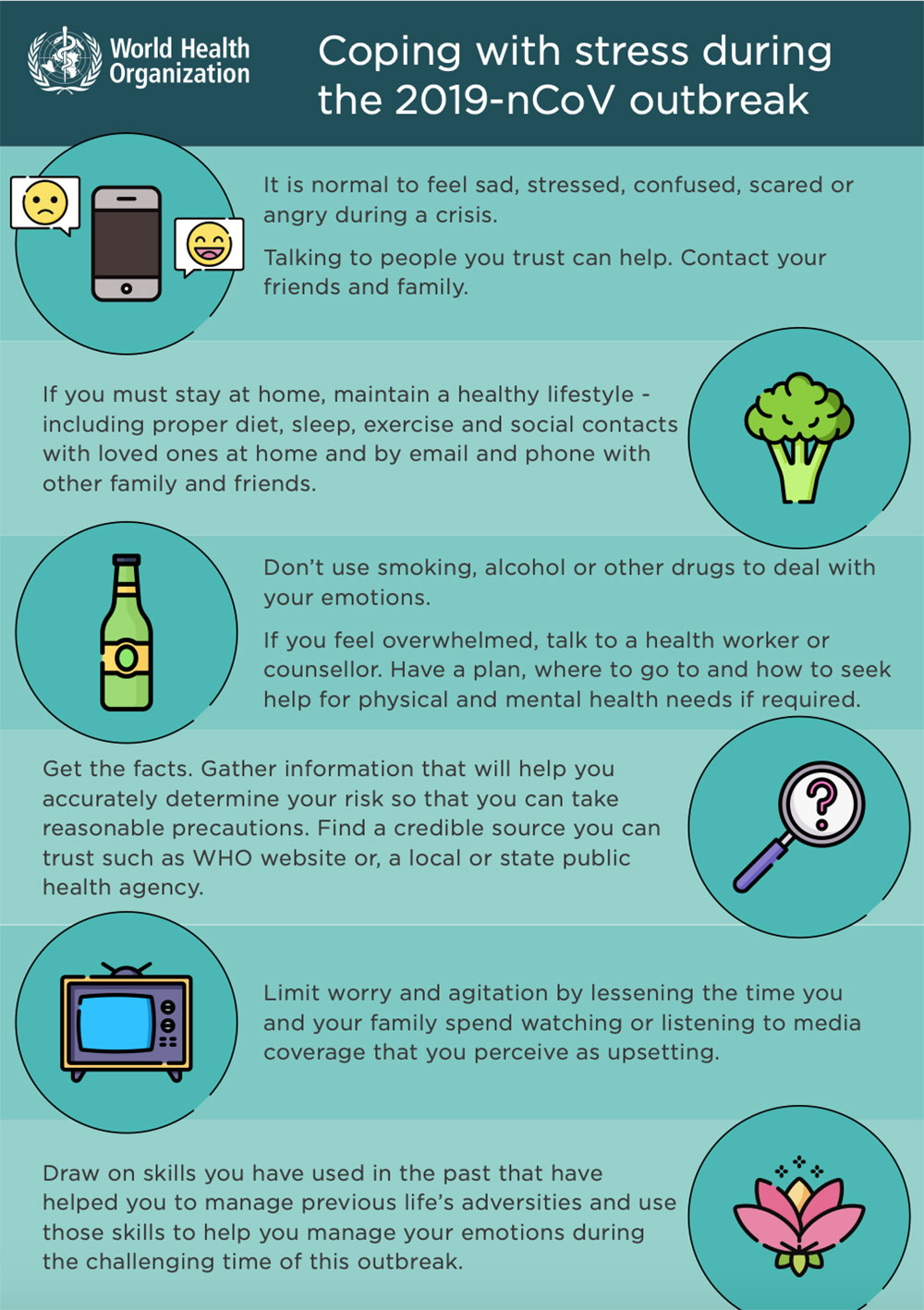 Things you can do to support yourself:
Avoid excessive exposure to media coverage of COVID-19.
Take care of your body. Take deep breaths, stretch or meditate. Try to eat healthy, well-balanced meals, exercise regularly, get plenty of sleep and avoid alcohol and drugs.
Make time to unwind and remind yourself that strong feelings will fade. Take breaks from watching, reading, or listening to news stories. It can be upsetting to hear about the crisis and see images repeatedly.
Connect with others. Share your concerns and how you are feeling with a friend or family member. Maintain healthy relationships.
Maintain a sense of hope and positive thinking.
Maintain your day-to-day activities and a routine as much as possible. Having a healthy routine can have a positive impact on your thoughts and feelings. Go back to basics: eating healthy meals, physical exercise (e.g., walking, stretching, running, cycling), getting enough sleep, and doing things you enjoy. Even if you're in self-quarantine, or working from home, there are many ways to develop new routines and stay healthy.
During this time of change, it's natural for our minds to think of all the usual activities we may not be able to do at the moment. Make a conscious shift to focus on the activities we are still able to do, or those that we may have more opportunity to do if we're at home more often. Some ideas could be to:
Keep learning or look for something new to study
Read a book
Listen to a podcast
Try out a new hobby or skill (e.g., cook a new recipe, play an instrument, learn a language, learn how to sew, gardening).
Getting a Good Night's Sleep
Feelings of uncertainty and change to daily life may mean you have more difficulty sleeping. Here's some tips:
Stick to a routine aim to go to bed and get up at the same time each day
Try to get some natural light by opening curtains and windows where possible
Wind down before bed and avoid using your phone, tablet or computer an hour before bedtime
For more information, advice and further support please click here:
https://www.nhsinform.scot/healthy-living/mental-wellbeing/stress/struggling-with-stress
https://www.nhs.uk/conditions/stress-anxiety-depression/improve-mental-wellbeing/
https://www.nhs.uk/conditions/stress-anxiety-depression/moodzone-mental-wellbeing-audio-guides/
https://www.mentalhealth.org.uk/podcasts-and-videos/podcasts-for-your-wellbeing