Physical Activity on Referral
Make your physical activity comeback with KA Leisure
Following the announcement from the First Minister regarding the Scottish Government's revised COVID-19 restrictions, we are suspending Active North Ayrshire, Physical Activity on Referral Programme classes until Monday 2nd November.
If you are living with a long-term health condition and would like to find out more about Physical Activity on Referral opportunities contact the team by email activelifestyles@kaleisure.com or give us a call on 01294 605128.
We still have a range of activities for you to stay active during the current restrictions.
Our free online class programme is still available and our Active Lifestyles Walks are available at the following facilities;
Auchenharvie Leisure Centre

Portal

Vikingar!
Walks and online classes must be booked in advance by emailing activelifestyles@kaleisure.com or calling the team on 01294 605128.
Active Lifestyle Walks
The walks will are physically distanced and are suitable for all fitness levels.  An Active Lifestyles Team member will be on hand to lead the way and support all those attending. They will last approximately 45-60 minutes and will meet at the front entrance of each venue.  Please dress comfortably and for all weathers, bringing a bottle of water is advised.
To book contact the Active Lifestyles Team at activelifestyles@kaleisure.com or 01294 605128.

Free Online Classes
These are closed classes delivered via zoom, to register please contact the Active Lifestyles Team at activelifestyles@kaleisure.comor call 01294 605128.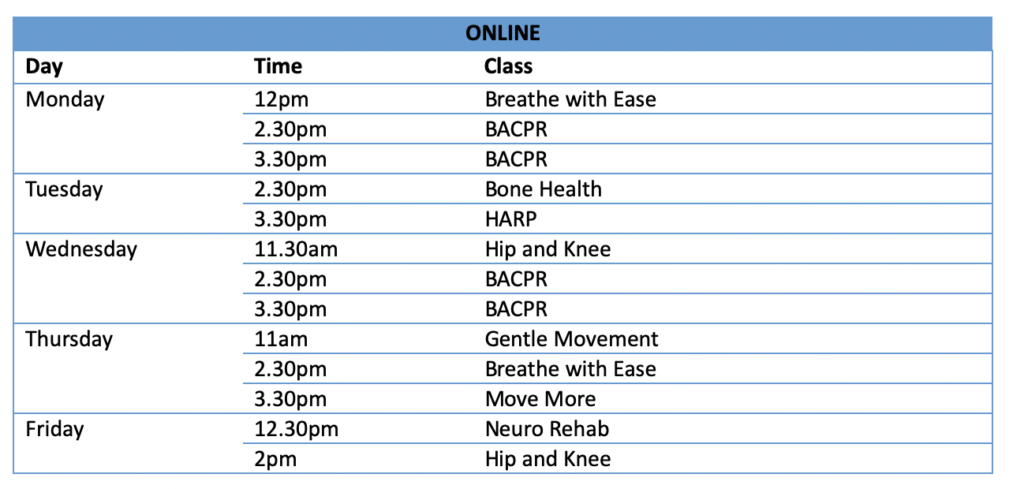 Facebook Live Classes
No prior registration for these classes is required.  Just visit our Facebook page at the times below.

The following video will give you an idea of what to expect when we return –
Before your visit
Stay home if you're unwell.  Please don't visit our venues if you feel unwell or have COVID-19 symptoms.  For more information on the symptoms of COVID-19 and what to do if you feel unwell visit here.
Bring your own. If you can, please bring your own equipment for classes.  E.g mats, bands. Bands will be available to purchase.
Arrive ready for your activity.  Please come in suitable clothes for your class as the changing rooms will be closed.  Don't worry our toilets will still be open for you to use.
Travel light.  We won't have as many lockers available as usual, so please think about how much you're bringing with you.  Please note that to begin with we will have no lockers available at the Portal.
Pre-book.  You will need to book your class in advance by calling the Active Lifestyles Team on 01294 605128. Due to physical distance measures we have limited capacity for activities, and we would hate for you to have a wasted trip due to the class being full.
Read Our Health Commitment Statement.  Before you visit the gym or take part in a class we expect all customers to read our Health Commitment Statement.  What's a Health Commitment Statement?  The Health Commitment Statement sets the standards that health and fitness centres and facility users can reasonably expect from each other, concerning the health of the user. It supports the evolving requirements of both users and operators and has been designed for users in a gym environment and with all operators in mind, allowing flexibility with its usage.
Fit4Access.  Fit4Access is a new online platform designed to help provide greater safety and reassurance to everyone in our facilities. Both staff and members will be asked to complete an online health check through Fit4Access.  It will ensure the safety of everyone who comes back into our facilities. On completion you will receive a Fit4Access pass which you must show at reception prior to taking part in your activity.
Before you receive your pass, you must read our new Code of Conduct and answer three TRUE or FALSE questions.  It is important for everyone to understand what to expect before you come back.
You will also be asked to complete the ukactive Health Commitment Statement to confirm that you are free of COVID-19 symptoms.
For more information on Fit4Access and how to get your pass click here.
Keeping You Safe
We can't wait to see you again, but your safety is our number one priority. That's why we're introducing enhanced cleaning procedures, one-way systems, class and gym protocols and physical distancing measures.
Sanitising Stations. Members will be encouraged to sanitise their hands at reception and additional hand sanitiser units have been positioned at key areas across our facilities.
Cleaning and disinfecting. We'll be sanitising gym equipment and cleaning facilities throughout the day.  However, you will notice slight changes to our opening hours, with areas closed at set periods throughout the day.  This will give our teams the opportunity to conduct further cleans throughout our venues.
Physical distancing. We've added additional signage, one-way systems and barrier systems which will guide you through our venues to your activity of choice. We're also limiting the number of members in each area, such as the gym floor and classes.
Changes to classes.  We've revised our timetables to ensure the classes we deliver can be done so in a safe manner. When you enter the class studio you will be assigned your own area which will give you plenty of space to enjoy your workout.
Phased return to activities. You'll notice not all our activities are reopening straight away.  We will be making a phased return to activities to ensure we have everything in place to keep you and our staff safe.
Protecting you and our teams.  We've installed plastic shields at our reception desks and we'll be providing Personal Protective Equipment (PPE) to our staff where required.
Programme and activity reviews. Your safety is our number one priority!  All our activities and classes are subject to change or cancellation which could occasionally be at short notice.  We'll continue to monitor industry and government guidance as well our own safety procedures and make adjustments as and when required.
During your visit
Face Coverings. Face coverings must be worn when moving around our facilities to your chosen activity.  We will have some available to purchase if you forget to bring yours with you.
Use hand sanitising stations. Hand sanitising stations will be located throughout our venues.
Check-in at reception. Try to arrive no more than 5 minutes before your activity and follow the physical distancing rules while you're waiting.  You should always visit reception prior to taking part in any activities.
When visiting the gym you will book for a one hour session.  We will be introducing a band system for gym access across all of our facilities. Once you have checked in at reception you will receive a disposable coloured wrist band which will allow staff to make you aware of when your one-hour session has been completed. Announcements will be made at the end of sessions by staff and through our public announcement systems.
Follow the signage. Keep to the one-way system and try to stay at least 2 metres from others as much as possible.  Where possible we will have separate exit and entry points so please follow the signage.
Clean your equipment and mats. You can do this before and after use with the wipe pods throughout the gym and studios.
Follow the class and gym etiquette. The guidance we have in place is there to help keep you and others safe while enjoying your workout.  Please take time to view the specific guidance prior to your visit. Download our class and gym etiquette guidance in our FAQs at the bottom of this page.
Don't wait around.  Once you've finished your session please make your way to the designated exit.
If you need assistance. If you need help to enter our facility and are being brought in and picked up please advise at time of booking. The person supporting you into our facility will also need a valid Fit4Access Pass and should follow the one-way system to exit. Your class instructor will guide them to the exit as appropriate. Due to restrictions we unfortunately cannot accommodate a support person to stay within the class for you.
Mobility Aids There will be room within your allocated exercise space to safely leave any walking or mobility aids.
What if you're not ready to return?
Whenever you're ready, we'll be there to support you to Make your Comeback. In the meantime, you have some options.
Subscription Fees. Our subscription fees will not restart until 1st October.  We will be in touch prior to that date to give you more information and further options including how to freeze your membership
Online workouts. We will continue to support you to stay active and healthy.  With the current Covid-19 restrictions it undoubtedly seems harder to fit exercise and movement into your daily routine. However, staying active is more important than ever at the moment, both for our physical and mental health.
We will be continuing to offer 13 free online classes each week to help support you to stay active.  For more information on these contact activelifestyles@kaleisure.com
Frequently Asked Questions
I am booked into a class do I need to call to cancel?
All those who were booked into a class will have this automatically cancelled. A member of the Active Lifestyles Team will be in touch to let you know about our alternative activities to help support you to stay active.
How do I book into a walk?
To book into any of our walks please contact the Team on 01294 605128 or emailactivelifestyles@kaleisure.com. An Active North Ayrshire update form must be completed prior to attending this can be done over the phone at time of booking if you have not already completed one.
Can I bring someone with me to a walk?
If you want to bring a friend or partner just advise at time of booking so we can also take their details and allocate a space.
How do I book an online class?
To book into any of our online classes contact the Active Lifestyles Team on 01294 605128 or email activelifestyles@kaleisure.com . An Active North Ayrshire update form must be completed prior to attending this can be done over the phone at time of booking if you have not already completed one. Classes are delivered via Zoom and an email link will be sent once you are registered.
How will I know when classes restart?
We will contact all Active North Ayrshire participants to let you know when classes are restarting and we will be able to rebook you at this time.
Can I still attend the gym?
Our gyms are still open for you to attend.
Is there anything I need to know before I arrive?
We've updated our class etiquette guidance to reflect any changes during visit.  You can view the update guidance and protocols by clicking here.
Where can I view the class programme?
The class programme is available to view here.
What happens after the class?
The instructor will guide you to the nearest exit.
Where do I put my bag, jacket and belongings?
Take them with you to your allocated training area.
Where do I go when I enter the studio?
Please enter the studio and begin to fill allocated training from the front.  The instructor will be on hand to guide you.
Why is the class I used to attend is no longer included within the ANA programme?
Guidelines mean we are restricted for space and capacity therefore we have revised our class programme to try and offer as many opportunities as possible.  If you are unsure what class is most suitable for you please contact a member of the team.
Booking your class
What activities do I have to book?
You will be required to book in for ANA classes, ANA online classes and health walks.
Why do I have to book?
Capacity of our classes are restricted by guidelines on safety, room size and physical distancing guidance. 
How do I book?
You can book your class by contacting the Active Lifestyles Team on 01294 605128. You may be asked some medical questions prior to booking if you have not already completed an update form. This is to ensure our records are up to date. 
I can no longer make my booking, do I need to let you know?
YES PLEASE.  Its really important that you let us know if you can no longer make your visit.  We expect many of you will want to get back to our classes.  If you cancel your booking, then we can offer it to others.
There has been a change in my medical condition, can I return?
Prior to coming back to our classes we will ask you to complete an update form. This will keep our records up to date to ensure we are prescribing your exercise safely. If there has been significant changes we may ask you visit your GP before coming back. 
I need support to come into the class can I still attend?
Yes, if you need help into our centres and are getting brought in and picked up your support will be guided through the one way system to leave. They will not be able to stay during the class. Please let us know when booking if you require this support so we can let your class instructor know. 
I use a walking aid can I still attend?
Please let us know at time of booking and we can advise on the best class for you. Our seated classes will allow space for any walking aids you require. 
I want to stay active but do not feel safe coming back, will there be support for me?
Yes, we are continuing to offer a programme of 13 online classes each week, alongside home programmes and health walks.
I haven't attended classes for some time, can I return?
If you haven't been to an ANA class this year or have not been regularly active within our programmes we may ask you to speak to your GP or health professional to be re-referred. 
I am not currently part of the programme can I take part in ANA classes?
ANA classes are closed and only open to those who are part of the programme. If you are living with a long-term health condition and are not part of our programme we can still support you to becoming more active.  If you have any questions or require further information please email activelifestyles@kaleisure.com or call 01294 605128
I used to attend an ANA gym based class. Why are there none within the revised programme of classes?
Due to guidelines we have had to restrict our programme.  We hope to be able to introduce gym based classes soon.